Shopping Cart
Your Cart is Empty
There was an error with PayPal
Click here to try again
Thank you for your business!
You should be receiving an order confirmation from Paypal shortly.
Exit Shopping Cart
Dr. Joseph White, Author and Speaker
| | |
| --- | --- |
| Posted on October 12, 2015 at 4:23 PM | |
All week at the World Meeting of Families, the Church's beautiful diversity was on display. With over 100 countries and persons of all ages represented,  any sweeping generalization about the attendees here would have been inaccurate. This was a neither a gathering of the progressive Church nor the conservative Church, neither young nor old, neither Western not Eastern. This was simply a gathering of the Church, and in particular her families. It was fitting then, that the final day of programming at the World Meeting highlighted the theme of unity In diversity.
In the final keynote, Protestant Pastor and bestselling author Rick Warren took the stage with Cardinal Sean O'Malley. Pastor Warren reaffirmed many of the themes of the conference, including the urgency of strengthening families in today's society. He also affirmed the current focus on the New Evangelization in the Catholic Church, saying, "Make the New Evangelization the mission of the rest of your life."
Cardinal O'Malley expressed his thanks to Pastor Warren and spoke of the privilege of speaking together with a brother who teaches people about Jesus. O'Malley admonished those gathered to "see the world through God's eyes." The Cardinal also picked up the theme of evangelization, saying, "If the world does not believe, it is in part because we are not united."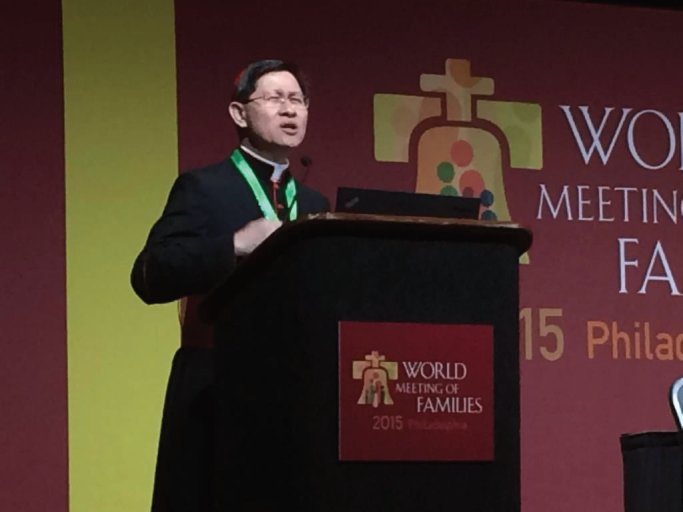 In the final workshop session of the World Meeting, Cardinal Tagle spoke about "Reaching out to Others in Authentic and Effective Ways."  Diversity, said Cardinal Tagle, is a gift. "It's part of God's design." But it is a gift that must be consciously received, and this requires responsibility. Cardinal Tagle stated that God himself, in his Trinitarian nature, is a model of unity in diversity. "What a shame if we do not image this God we profess."
According to Cardinal Tagle, God accomplishes unity in diversity because he "is a God of dialogue." We must also be a people of dialogue if we wish to reach out to others. Cardinal Tagle provided three questions "to help us understand if we are ready for dialogue": 1) Do I understand my own culture? 2) Do I know the culture of the other, so I can avoid presuppositions and prejudice? and 3) Do I make a conscious effort to clear the environment of prejudice and discrimination?
The Cardinal once again delighted those gathered with stories, including some about his own journey towards culture competency. At the end, there was time for one question from the audience. The question was one he is growing accustomed to being asked: "Will you sing us a song?" And in a voice as smooth as Johnny Mathis or Frank Sinatra, he did just that.
Categories: Bishops statements, General Catechetical, Marriage, World Meeting of Families
/