Shopping Cart
Your Cart is Empty
There was an error with PayPal
Click here to try again
Thank you for your business!
You should be receiving an order confirmation from Paypal shortly.
Exit Shopping Cart
Dr. Joseph White, Author and Speaker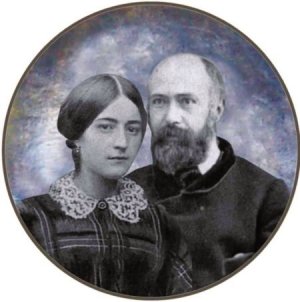 Early in my Catholic journey, a friend introduced me to St. Therese of Lisieux, also called the Little Flower. I read her autobiography and was attracted to her "Little Way" to holiness -- doing small things with great love. I have asked for her intercession for many things over the years, and in a particularly difficult time, when I was in a great deal of distress, I happened across a medallion of Therese with the inscription "Do not forget that I am your sister and I will never cease praying for you." It was such a comfort to find this among my own possessions on that challenging day. I won't go so far as to say that it was of a supernatural origin. I had a number of St. Therese medals, pictures, and other items, but I will say that I don't recall seeing this one, or reading its inscription, until that difficult day.
Truly, St. Therese has been my sister over the years, probably because of her documented affection for poor souls in need of conversion! It was through Therese that I, like many others, discovered her parents and newly-proclaimed saints Louis and Zelie Martin. 
Louis Martin was born in 1823 in Bordeaux, France, were his father, a military captain, was garrisoned. The family settled in Alençon when Louis was 7 years old. When he was older, Louis went to live with his father's cousin, a clock maker, and learned his trade. He initially felt a call to religious life, but eventually settled into his trade as a watch and clock maker in Alençon.
Zélie Guérin was born in 1831 in Saint-Denis-sur-Sarthon, near Alençon. Like Louis, Zélie initially felt herself called to religious life, but when she interviewed with the Sisters of Charity, it was decided that she did not have a vocation. She learned the trade of lacemaking and excelled in this craft, establishing an office in Alençon.
Louis and Zélie saw one another one day as they were crossing the same bridge in opposite directions. They each asked about the other around town and eventually met. They married within three months.
Though they were skilled in their trades and did well, financially, Louis and Zélie faced many hardships. They had nine children, four of whom died very young. During the Franco-Prussian war, their home was occupied by enemy soldiers, whom they were forced to host and feed with very little resources. When their youngest child, Thérèse, was just four years old, Zélie died of breast cancer, leaving Louis to raise his five girls alone.
Through it all, Louis and Zélie remained faithful to God and to their vocations and spouses and parents. Evidence of this is seen in the lives of their children, all of whom entered religious life. Louis died of arteriosclerosis in 1894, at the age of 70.
One of the most striking things about Louis and Zélie Martin is the ordinariness of their lives. They were, in many ways, an average couple presented with challenges, some unusual, at least to us (e.g., infant mortality, military occupation) and others quite common (such as family illness and parenting difficulties – especially with their daughter Leonie, for whom there is also now a cause for Beatification). But the couple lived by the principle of doing each everyday act with great love, as if for Jesus himself. Zélie used to speak of making small sacrifices that would "set pearls in your crown" in heaven. In this, we can see the seeds of Thérèse's own spirituality.
The devotion of Louis and Zélie to their faith led each of them to initially consider religious life, yet they found that God had not called them to give themselves in this way. Instead, their vocation was to give themselves in love to one another and to their children. Their lives affirm the dignity of the vocation of marriage as a path to sanctity.
Louis and Zélie Martin show us how it is possible to live an ordinary life with extraordinary virtue. For those with a vocation to marriage and family – the majority of Catholics today, they provide an example of living out that vocation in a faithful and holy way. In short, they are a shining reminder that by loving our spouses faithfully and raising our children with love, we are living holy lives.
The Martin family serve as an inspiration to married couples, showing us that through the vocation of marriage and parenthood, even as we are called to bear crosses, we can become more like Jesus. In giving to one another in small sacrifices of love, we become ever more the people God made us to be.
We also recognize that the circumstances of life are sometimes less than ideal. Louis Martin spent the better part of Thérèse's childhood as a single parent, having been widowed when Thérèse was just four years old. Still, his faithfulness and openness to God's grace allowed him to raise five saintly daughters – including a Doctor of the Church.
I was at the home of Saints Louis and Zelie last March on the day the Vatican announced they would be canonized, and it brought great joy to everyone in Alencon. This is a family whose love is so great that they are always adding to their numbers. I recently read Helene Mongin's new biography of Louis and Zelie Martin, titled, "The Extraordinary Parents of St. Therese of Lisieux," and I got to know the Martins even better than before. 
With St. Therese as my spiritual sister, I also think of Louis and Zelie as a spiritual mother and father. They are a model for me and the love I want to cultivate in my own home and daily life. The Martins have a son named Joseph (who died as an infant) with them in Heaven, and in me they have another son named Joseph on earth. I must confess, though, that I feel I am much more like Leonie, their difficult child who struggled to find a path to holiness, than I am like Therese, the beloved saint and Doctor of the Church. Still, I pray that with God's grace and through their intercession, I will, like Leonie (who is now being considered for Beatification), grow in holiness and one day share in the heavenly banquet with this family I love so much. 
Saints Louis and Zelie Martin, pray for us, and save me a seat at your table!
/