Shopping Cart
Your Cart is Empty
There was an error with PayPal
Click here to try again
Thank you for your business!
You should be receiving an order confirmation from Paypal shortly.
Exit Shopping Cart
Dr. Joseph White, Author and Speaker
Happy St. Valentine's Day!
The United States Bishops recognize February 7-14, 2017 as National Marriage Week. For more information on that, click 
here. 
In recognition of this worthy focus on marriage, I am posting the following excerpt from my book, 
A Catholic Parent's Tool Box
 (Our Sunday Visitor, 2014):
Many couples, as they begin to have children, transition away from time as a couple to time as a family. The pressing demands of parenthood – the busiest job you'll ever love – push "together time" between husbands and wives to the back burner. Many parents of young children feel guilty about spending time away from the kids – or even wanting to. And the increased mobility of today's families often means that grandparents and other family members are farther away, making it a challenge for many parents to find reliable childcare.
Still, research tells us that the best parents are those who take time to nurture the marital relationship, even if it sometimes means occasionally sacrificing time with the kids. This makes sense for three reasons. First, you are your child's example of how to have a healthy adult relationship. Kids learn by example, so if one of your dreams for your children is to find that special someone and live "happily ever after," show them how it's done. Second, children feel more secure when they know their parents' relationship is solid. The day to day struggles of marriage and family mean that we will always have some conflicts, but kids get can get confused about how serious these are, and often have fears (even unspoken ones) that mom and dad may get divorced because they are arguing. More positive time together for husbands and wives is reassuring to them (and to you) that you still love each other no matter what. Third, parents who aren't generally in close communication with one another find it much harder to set consistent limits for their children. Kids often learn to exploit this and can sometimes pit one parent against the other in an effort to get something they want. (It sounds a little devious, but almost all kids try it at one time or another. Perhaps you remember doing this yourself!) Parents will find that child discipline is a lot easier when they present a "united front," working together to give the children what they need even when it means denying what they want.
So how do we do this in a world of real-life family demands? Here are a few tips:
1. Ask each other out on dates. Don't find time, make time. Perhaps you could get together with another couple who have young children and agree to watch their kids so they can go out if they will do the same for you. Go somewhere you wouldn't go with the kids – a romantic restaurant, a movie, or perhaps you may even wish to stay at home and have a quiet dinner and a little romance while the kids are out!
2. Do the unexpected. Surprise your spouse with something he or she really likes. It doesn't have to be extravagant. (Flowers are the old cliché, but they still work, guys! They're not that expensive if you deliver them personally.) Perhaps a favorite treat or a love note sent via U.S. Mail to your spouse's work (or hidden in a briefcase or lunch bag). It can take just a few minutes to brighten up their day and spice up your relationship.
3. Bring back the good old days. Make a compilation of music the two of you listened to when you were dating. Did you have a song that was "your song?" If you are still in the same city, go to a place you used to frequent together. (If not, perhaps a place that reminds you of "back home.")
4. "Steal" some quick moments together. Make a lunch date while the kids are at school or childcare. Be firm about bedtime, and spend try to spend at least an hour together after the kids go to bed. (Together enjoying one another, not paying bills and folding clothes.) Schedule this for two or more nights per week. Steal a moment or two in the morning while you are getting dressed for the day (Your bathroom door has a lock, right?)
5. Pray together. This is another place where time has to be made, not found. Hold hands and ask God to bless your marriage and your kids. Pray some traditional prayers together. Take turns reading the Psalms to one another. Tap into the Creator of marriage and family, the Source of the grace that strengthens us as husbands, wives, and parents.
6. Be affectionate in front of the kids. OK, don't overdo it, but giving quick hugs and kisses is nice for you are reassuring to them. Even if they say "yuck," they're probably smiling on the inside.
7. Be patient with one another. If you're not already doing these things, it takes a while to "get into the groove." One of you may try something romantic when they other is not necessarily in the mood. Be open and patient as you work to get more in sync. Try again and again.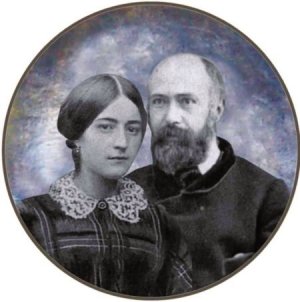 Early in my Catholic journey, a friend introduced me to St. Therese of Lisieux, also called the Little Flower. I read her autobiography and was attracted to her "Little Way" to holiness -- doing small things with great love. I have asked for her intercession for many things over the years, and in a particularly difficult time, when I was in a great deal of distress, I happened across a medallion of Therese with the inscription "Do not forget that I am your sister and I will never cease praying for you." It was such a comfort to find this among my own possessions on that challenging day. I won't go so far as to say that it was of a supernatural origin. I had a number of St. Therese medals, pictures, and other items, but I will say that I don't recall seeing this one, or reading its inscription, until that difficult day.
Truly, St. Therese has been my sister over the years, probably because of her documented affection for poor souls in need of conversion! It was through Therese that I, like many others, discovered her parents and newly-proclaimed saints Louis and Zelie Martin. 
Louis Martin was born in 1823 in Bordeaux, France, were his father, a military captain, was garrisoned. The family settled in Alençon when Louis was 7 years old. When he was older, Louis went to live with his father's cousin, a clock maker, and learned his trade. He initially felt a call to religious life, but eventually settled into his trade as a watch and clock maker in Alençon.
Zélie Guérin was born in 1831 in Saint-Denis-sur-Sarthon, near Alençon. Like Louis, Zélie initially felt herself called to religious life, but when she interviewed with the Sisters of Charity, it was decided that she did not have a vocation. She learned the trade of lacemaking and excelled in this craft, establishing an office in Alençon.
Louis and Zélie saw one another one day as they were crossing the same bridge in opposite directions. They each asked about the other around town and eventually met. They married within three months.
Though they were skilled in their trades and did well, financially, Louis and Zélie faced many hardships. They had nine children, four of whom died very young. During the Franco-Prussian war, their home was occupied by enemy soldiers, whom they were forced to host and feed with very little resources. When their youngest child, Thérèse, was just four years old, Zélie died of breast cancer, leaving Louis to raise his five girls alone.
Through it all, Louis and Zélie remained faithful to God and to their vocations and spouses and parents. Evidence of this is seen in the lives of their children, all of whom entered religious life. Louis died of arteriosclerosis in 1894, at the age of 70.
One of the most striking things about Louis and Zélie Martin is the ordinariness of their lives. They were, in many ways, an average couple presented with challenges, some unusual, at least to us (e.g., infant mortality, military occupation) and others quite common (such as family illness and parenting difficulties – especially with their daughter Leonie, for whom there is also now a cause for Beatification). But the couple lived by the principle of doing each everyday act with great love, as if for Jesus himself. Zélie used to speak of making small sacrifices that would "set pearls in your crown" in heaven. In this, we can see the seeds of Thérèse's own spirituality.
The devotion of Louis and Zélie to their faith led each of them to initially consider religious life, yet they found that God had not called them to give themselves in this way. Instead, their vocation was to give themselves in love to one another and to their children. Their lives affirm the dignity of the vocation of marriage as a path to sanctity.
Louis and Zélie Martin show us how it is possible to live an ordinary life with extraordinary virtue. For those with a vocation to marriage and family – the majority of Catholics today, they provide an example of living out that vocation in a faithful and holy way. In short, they are a shining reminder that by loving our spouses faithfully and raising our children with love, we are living holy lives.
The Martin family serve as an inspiration to married couples, showing us that through the vocation of marriage and parenthood, even as we are called to bear crosses, we can become more like Jesus. In giving to one another in small sacrifices of love, we become ever more the people God made us to be.
We also recognize that the circumstances of life are sometimes less than ideal. Louis Martin spent the better part of Thérèse's childhood as a single parent, having been widowed when Thérèse was just four years old. Still, his faithfulness and openness to God's grace allowed him to raise five saintly daughters – including a Doctor of the Church.
I was at the home of Saints Louis and Zelie last March on the day the Vatican announced they would be canonized, and it brought great joy to everyone in Alencon. This is a family whose love is so great that they are always adding to their numbers. I recently read Helene Mongin's new biography of Louis and Zelie Martin, titled, "The Extraordinary Parents of St. Therese of Lisieux," and I got to know the Martins even better than before. 
With St. Therese as my spiritual sister, I also think of Louis and Zelie as a spiritual mother and father. They are a model for me and the love I want to cultivate in my own home and daily life. The Martins have a son named Joseph (who died as an infant) with them in Heaven, and in me they have another son named Joseph on earth. I must confess, though, that I feel I am much more like Leonie, their difficult child who struggled to find a path to holiness, than I am like Therese, the beloved saint and Doctor of the Church. Still, I pray that with God's grace and through their intercession, I will, like Leonie (who is now being considered for Beatification), grow in holiness and one day share in the heavenly banquet with this family I love so much. 
Saints Louis and Zelie Martin, pray for us, and save me a seat at your table!
All week at the World Meeting of Families, the Church's beautiful diversity was on display. With over 100 countries and persons of all ages represented,  any sweeping generalization about the attendees here would have been inaccurate. This was a neither a gathering of the progressive Church nor the conservative Church, neither young nor old, neither Western not Eastern. This was simply a gathering of the Church, and in particular her families. It was fitting then, that the final day of programming at the World Meeting highlighted the theme of unity In diversity.
In the final keynote, Protestant Pastor and bestselling author Rick Warren took the stage with Cardinal Sean O'Malley. Pastor Warren reaffirmed many of the themes of the conference, including the urgency of strengthening families in today's society. He also affirmed the current focus on the New Evangelization in the Catholic Church, saying, "Make the New Evangelization the mission of the rest of your life."
Cardinal O'Malley expressed his thanks to Pastor Warren and spoke of the privilege of speaking together with a brother who teaches people about Jesus. O'Malley admonished those gathered to "see the world through God's eyes." The Cardinal also picked up the theme of evangelization, saying, "If the world does not believe, it is in part because we are not united."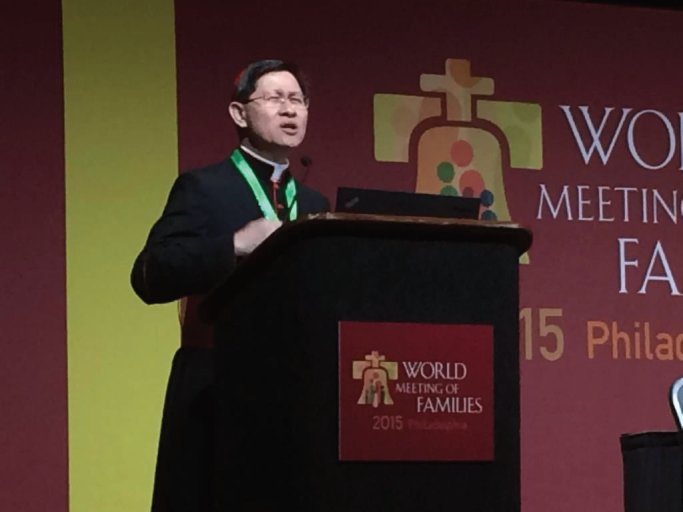 In the final workshop session of the World Meeting, Cardinal Tagle spoke about "Reaching out to Others in Authentic and Effective Ways."  Diversity, said Cardinal Tagle, is a gift. "It's part of God's design." But it is a gift that must be consciously received, and this requires responsibility. Cardinal Tagle stated that God himself, in his Trinitarian nature, is a model of unity in diversity. "What a shame if we do not image this God we profess."




According to Cardinal Tagle, God accomplishes unity in diversity because he "is a God of dialogue." We must also be a people of dialogue if we wish to reach out to others. Cardinal Tagle provided three questions "to help us understand if we are ready for dialogue": 1) Do I understand my own culture? 2) Do I know the culture of the other, so I can avoid presuppositions and prejudice? and 3) Do I make a conscious effort to clear the environment of prejudice and discrimination?




The Cardinal once again delighted those gathered with stories, including some about his own journey towards culture competency. At the end, there was time for one question from the audience. The question was one he is growing accustomed to being asked: "Will you sing us a song?" And in a voice as smooth as Johnny Mathis or Frank Sinatra, he did just that.




The United States Bishops recognize February 7-14, 2017 as National Marriage Week. For more information on that, click

here. 




In recognition of this worthy focus on marriage, I am posting the following excerpt from my book,

A Catholic Parent's Tool Box

(Our Sunday Visitor, 2014):




Many couples, as they begin to have children, transition away from time as a couple to time as a family. The pressing demands of parenthood – the busiest job you'll ever love – push "together time" between husbands and wives to the back burner. Many parents of young children feel guilty about spending time away from the kids – or even wanting to. And the increased mobility of today's families often means that grandparents and other family members are farther away, making it a challenge for many parents to find reliable childcare.

Still, research tells us that the best parents are those who take time to nurture the marital relationship, even if it sometimes means occasionally sacrificing time with the kids. This makes sense for three reasons. First, you are your child's example of how to have a healthy adult relationship. Kids learn by example, so if one of your dreams for your children is to find that special someone and live "happily ever after," show them how it's done. Second, children feel more secure when they know their parents' relationship is solid. The day to day struggles of marriage and family mean that we will always have some conflicts, but kids get can get confused about how serious these are, and often have fears (even unspoken ones) that mom and dad may get divorced because they are arguing. More positive time together for husbands and wives is reassuring to them (and to you) that you still love each other no matter what. Third, parents who aren't generally in close communication with one another find it much harder to set consistent limits for their children. Kids often learn to exploit this and can sometimes pit one parent against the other in an effort to get something they want. (It sounds a little devious, but almost all kids try it at one time or another. Perhaps you remember doing this yourself!) Parents will find that child discipline is a lot easier when they present a "united front," working together to give the children what they need even when it means denying what they want.




So how do we do this in a world of real-life family demands? Here are a few tips:




1. Ask each other out on dates. Don't find time, make time. Perhaps you could get together with another couple who have young children and agree to watch their kids so they can go out if they will do the same for you. Go somewhere you wouldn't go with the kids – a romantic restaurant, a movie, or perhaps you may even wish to stay at home and have a quiet dinner and a little romance while the kids are out!




2. Do the unexpected. Surprise your spouse with something he or she really likes. It doesn't have to be extravagant. (Flowers are the old cliché, but they still work, guys! They're not that expensive if you deliver them personally.) Perhaps a favorite treat or a love note sent via U.S. Mail to your spouse's work (or hidden in a briefcase or lunch bag). It can take just a few minutes to brighten up their day and spice up your relationship.




3. Bring back the good old days. Make a compilation of music the two of you listened to when you were dating. Did you have a song that was "your song?" If you are still in the same city, go to a place you used to frequent together. (If not, perhaps a place that reminds you of "back home.")




4. "Steal" some quick moments together. Make a lunch date while the kids are at school or childcare. Be firm about bedtime, and spend try to spend at least an hour together after the kids go to bed. (Together enjoying one another, not paying bills and folding clothes.) Schedule this for two or more nights per week. Steal a moment or two in the morning while you are getting dressed for the day (Your bathroom door has a lock, right?)




5. Pray together. This is another place where time has to be made, not found. Hold hands and ask God to bless your marriage and your kids. Pray some traditional prayers together. Take turns reading the Psalms to one another. Tap into the Creator of marriage and family, the Source of the grace that strengthens us as husbands, wives, and parents.




6. Be affectionate in front of the kids. OK, don't overdo it, but giving quick hugs and kisses is nice for you are reassuring to them. Even if they say "yuck," they're probably smiling on the inside.




7. Be patient with one another. If you're not already doing these things, it takes a while to "get into the groove." One of you may try something romantic when they other is not necessarily in the mood. Be open and patient as you work to get more in sync. Try again and again.




 


0

/