Shopping Cart
Your Cart is Empty
There was an error with PayPal
Click here to try again
Thank you for your business!
You should be receiving an order confirmation from Paypal shortly.
Exit Shopping Cart
Dr. Joseph White, Author and Speaker
One could feel the anticipation in the air as the crowds filed in hours early for the Festival of Families on Saturday night. For the thousands gathered from over 100 countries for the World Meeting of Families, this was what they had been waiting for all week – a visit from Pope Francis. What's more, they knew this was the reason Pope Francis had come to the United States – to be with the families gathered for the World Meeting. They knew this moment would truly be something special.
And the Holy Father did not disappoint. The roar of police motorcycles ahead of his motorcade, and then the flashing lights of emergency vehicles, signaled that he had arrived, and the crowd erupted in shouts of joy. Riding the Popemobile through the streets surrounding the parkway, it seemed he visited the crowd from every side, and then took his place to cheers and applause.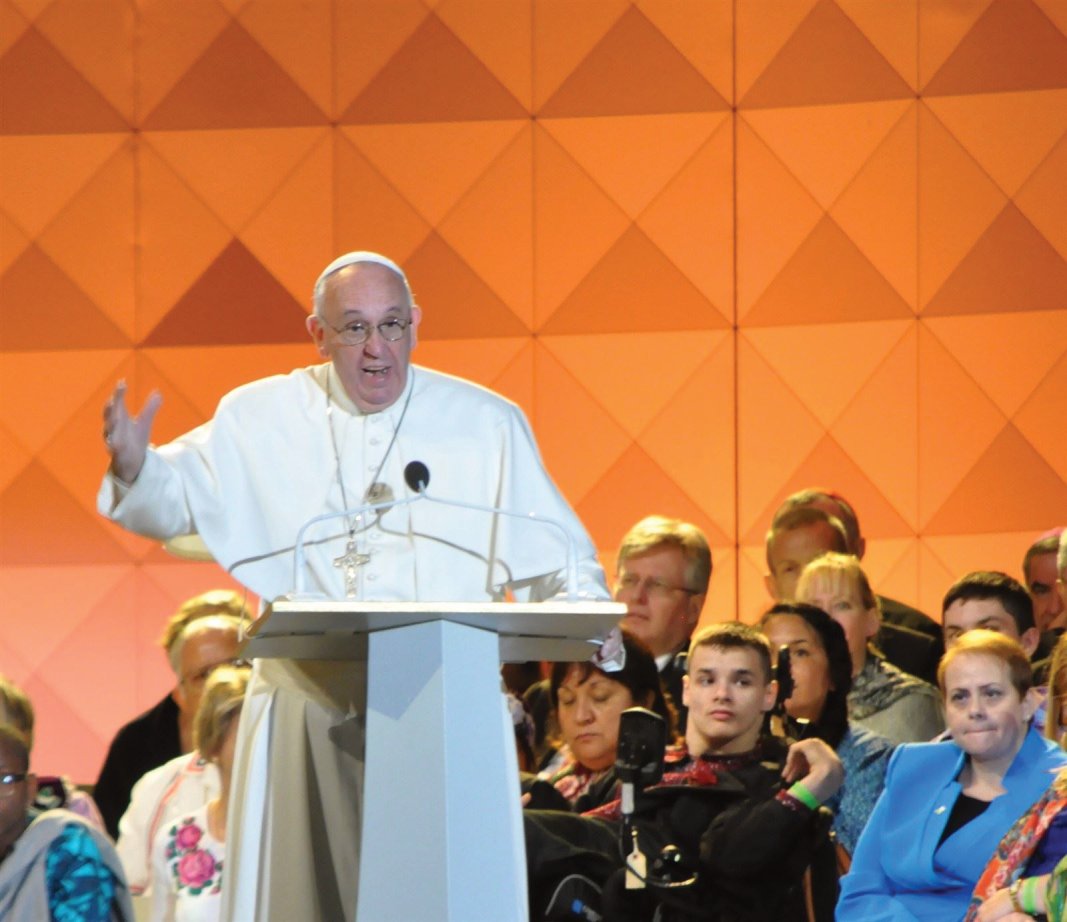 Nestled within performances from world renowned artists such as Aretha Franklin and Andrea Bocelli and testimonies by families who had endured great struggle, was a gem of a spontaneous talk on the family, delivered by the Pope himself. He thanked the performers and families who had given testimonies, saying, "All that is good, all that is true, all that is beautiful brings us to God." He then recounted a time when he was asked by a child what God did before he created the heavens and the earth.He said that at first he wasn't sure how to answer, but then said, "Before God created the heavens and the earth, God loved, because God is love." But the great love that existed among the three Divine Persons of the Holy Trinity was so "overflowing" that God " had to come out of himself so as to have that which he could live outside of himself." And so, said Pope Francis,God created the world. "But the most beautiful thing that God made…was the family." All of the love God has in himself "he gives to the family." A family "is truly a family," said Francis, "when it is able to open its arms and receive all of this love."
Pope Francis paused for a moment to acknowledge that the lofty language he was using to describe the family might sound unrealistic, given the daily struggles families face. He acknowledged that there are crosses to bear in family life, but added that just as with Jesus there was resurrection after the cross, so too in families. For this reason, said the Holy Father, the family is "a factory of hope." Pope Francis concluded his talk by offering a word of advice to families for sustaining this hope: "Never end the day without making peace in the family."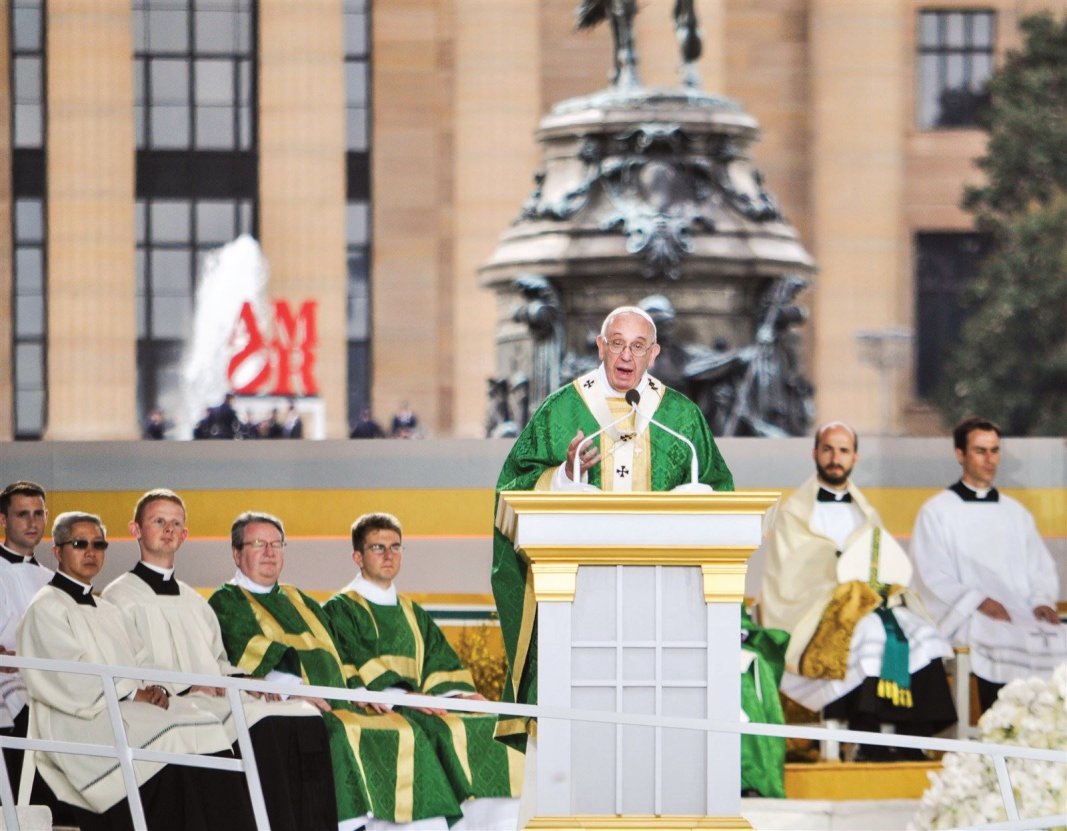 The following day  at Mass, before an even larger crowd, Pope Francis again affirmed the goodness of family life. In a nod to St. Therese of Lisieux, to whom Pope Francis has a special devotion, he said that "holiness is always tied to little gestures," which "we learn at home, in the family." He said that this is why our families "are true domestic churches," because "they are the right place for faith to become life, and life to become faith." In closing, Francis again called families to "be open to miracles of love for the sake of all the families of the world."
Pope Benedict's words to Children Preparing for First Communion in Benin (and in Kid-Friendly Language, too!):
God our Father has gathered us around his Son and our brother, Jesus Christ, who is present in the host consecrated during the Mass. This is a great mystery before which we worship and we believe. Jesus, who loves us very much, is truly present in the tabernacles of all the churches around the world, in the tabernacles of the churches in your neighbourhoods and in your parishes. I ask you to visit him often to tell him of your love for him.

Some of you have already made your First Holy Communion, and others are preparing for it. The day of my First Holy Communion was one of the most beautiful days of my life. It is the same for you, isn't it? And why is that? It's not only because of our nice clothes or the gifts we receive, nor even because of the parties! It is above all because, that day, we receive Jesus in the Eucharist for the first time! When I receive Communion, Jesus comes to live in me. I should welcome him with love and listen closely to him. In the depths of my heart, I can tell him, for example: "Jesus, I know that you love me. Give me your love so that I can love you in return and love others with your love. I give you all my joys, my troubles and my future." Do not hesitate, dear children, to speak of Jesus to others. He is a treasure whom you should share generously. Throughout the history of the Church, the love of Jesus has filled countless Christians, and even young people like yourselves, with courage and strength. In this way, Saint Kizito, a Ugandan boy, was put to death because he wanted to live according to the baptism which he had just received. Kizito prayed. He realized that God is not only important, but that he is everything.

What, then, is prayer? It is a cry of love directed to God our Father, with the will to imitate Jesus our brother. Jesus often went off by himself to pray. Like Jesus, I too can find a calm place to pray where I can quietly stand before a Cross or a holy picture in order to speak to Jesus and to listen to him. I can also use the Gospels. That way, I keep within my heart a passage which has touched me and which will guide me throughout the day. To stay with Jesus like this for a little while lets him fill me with his love, light and life! This love, which I receive in prayer, calls me in turn to give it to my parents, to my friends, to everyone with whom I live, even with those who do not like me, and those whom I do not appreciate enough. Dear young people, Jesus loves you. Ask your parents to pray with you! Sometimes you may even have to push them a little. But do not hesitate to do so. God is that important!

May the Virgin Mary, his Mother, teach you to love more and more through prayer, forgiveness and charity. I entrust you to her, together with your families and teachers. Look! I have this rosary in my pocket. [Pulls it out and shows it.] The rosary is like a tool that we can use to pray. It is easy to pray the rosary. Maybe you know how already; if not, ask your parents to help you to learn how. At the end of this meeting, each one of you will receive a rosary. When you hold it in your hands, you can pray for the Pope, for the Church and for every important intention. And now, before I bless you all with great affection, let us pray together a Hail Mary for children throughout the world, especially for those who are sick, who are hungry and in places of war.
/