Shopping Cart
Your Cart is Empty
There was an error with PayPal
Click here to try again
Thank you for your business!
You should be receiving an order confirmation from Paypal shortly.
Exit Shopping Cart
Dr. Joseph White, Author and Speaker
The following is the text of my talk at the NCCL breakfast on June 1, 2018.

Good Morning. In The Joy of the Gospel, Pope Francis says, and I quote:
The Church will have to initiate everyone – priests, religious and laity – into this "art of accompaniment" which teaches us to remove our sandals before the sacred ground of the other. The pace of this accompaniment must be steady and reassuring, reflecting our closeness and our compassionate gaze which also heals, liberates and encourages growth in the Christian life.
In the ministry of faith formation, this "art of accompaniment" is essential. If we want to accompany others along the road of faith, we must resist the temptation to call out to them, saying, "Hey what are you doing way over there. Get over here with us." It is far more effective to go to the other, meet them where they are on the journey and say, "May I walk beside you?"
To do this takes humility. We must understand that God has the same love for each and every one of us. God loves each of us with a full, passionate and unselfish love. In fact, Pope Francis says, God's love for us is the only bond that unites all of humanity – the one thing each of us has in common with the other.
Accompaniment requires listening with empathy and reflection. In today's hectic and noisy world, too often we fail to take time with one another, to listen without worrying about what we will say next. Accompaniment means sitting with the other, listening to the words they speak and reflecting on the feelings behind the words. It means recognizing what a gift we are being given when others trust us with their stories.
To accompany others, we must get in touch with the joy and good humor that comes from openness to God's grace. Pope Francis cautions us against "a defeatism which turns us into querulous and disillusioned pessimists, 'sourpusses'." The word he uses in Spanish is "caras de vinaigre" or "vinegar faces." I think that image says it all. Pope Francis begins every day by praying St. Thomas More's "Prayer for Good Humor." It goes like this:
Grant me, O Lord, good digestion, and also something to digest.
Grant me a healthy body, and the necessary good humor to maintain it.
Grant me a simple soul that knows to treasure all that is good
and that doesn't frighten easily at the sight of evil,
but rather finds the means to put things back in their place.
Give me a soul that knows not boredom, grumblings, sighs and laments,
nor excess of stress, because of that obstructing thing called "I."
Grant me, O Lord, a sense of good humor.
Allow me the grace to be able to take a joke to discover in life a bit of joy,
and to be able to share it with others.
Finally, accompaniment takes courage. The courage to step outside of ourselves. The courage to encounter and accept differences. Pope Francis says that differences are uncomfortable for us because differences make us grow. We will experience some growing pains when we embrace the art of accompaniment. But unless we are willing to grow, we will never become the people God made us to be – the Church God calls us to be.
Catholic social teaching transcends the boundaries of politics and secular ideologies. In today's very politically-polarized environment, how can we form children and teens to proclaim and live the beauty of our Catholic faith, from caring for all Creation to defending the life and dignity of the human person? In the video below, I address these questions with 5 practical ways to form learners who live the faith. If you would like an outline for the video, click here:
http://www.sharingcatholicfaith.com#file-not-found"ctrl-7226862">

As the culture around us focuses on resolutions for the New Year, let us pause to consider ways we can make a mid-year "fresh start" in our catechetical ministry. The work of a catechetical leader is never done. (In fact, I've heard some people joke that DRE stands for "directly responsible for everything!) Starting new initiatives are difficult in the fall when catechetical leaders are busy with so many beginning of the year details. Consider doing something different, beginning in January. Here are a few suggestions:
1.     Engage your parish staff in a weekly prayer meeting or a study series. This might be a good time to plan for a staff study of a book during the weeks of Lent. Or perhaps you could agree to meet at 3 pm every Friday to recite the Chaplet of Divine Mercy.
2.     Plan a new gathering for families in the coming calendar year. Perhaps this could be a one-time event around your parish patron saint's feast day or on another occasion in the Church calendar. Or perhaps you could host a potluck of religious education families.
3.     Reflect on one way you could "dive deeper" in your own faith life. We cannot share with others what we do not have. How can you grow in this new year in your own faith life – perhaps through reading a good book, taking a theology class, or spending more time in prayer?
Don't try to tackle everything at once, but use this new year to do just one thing that's different. A fresh start can give us new results and a renewed spirit! 
Catechesis has always been a dynamic field. While the core content remains the same, our methodology evolves as technology advances and events and circumstances shape the needs of our church. If we consider what we are hearing today about the hopes, challenges, and frustrations of catechetical leaders and reflect upon this in light of current trends in general education, several key themes emerge. Here are four trends that I believe will change catechesis in 2017 and beyond.
1.     Differentiated instruction/multisensory methodology. In general education over the past 20 years, there has been an increasing recognition that not everyone learns in the same way. Advances in neurocognitive research have helped us understand this better and to adopt a prescriptive approach to different learning styles. Consequently, in a modern classroom, we see various multisensory strategies at work. Learning activities and materials incorporate various senses – there are auditory and visual stimuli as well as hands-on approaches for kinesthetic learners. Learners are working not only individually, but also in pairs and small groups to complete learning tasks. The days of lectures and discussions are largely gone, and texts are increasingly replaced by audiovisual technology. These approaches help to keep learners engaged, they speak to the unique learning style of each individual, and they help to meet special learning needs.
2.     Enhanced reality. The ubiquity of smartphones, tablets and other devices and the development of enhanced reality technologies (e.g. "Pokémon Go") have tremendous implications for catechesis. Imagine a church in which point-of-use catechesis was available through enhanced reality. For example, when aiming the camera on their device at the holy water font, a learner could see video- or text-based catechesis on holy water and why Catholics bless themselves when entering a church. Churches could also customize the enhanced reality experience to use their own stained glass windows, icons, and other objects as teaching tools.
3.    Virtual reality. Virtual reality technology has become inexpensive and portable. This will mean that in the very near future, nearly everyone will have access to virtual reality technology in the same way the majority of the population has access to smartphone technology today. The implications here for religious education are enormous. Just to cite one example: Imagine that instead of hearing or reading a Scripture account, we could step inside a portrayal of that account – actually being present as Jesus calls his disciples or preaches the Sermon on the Mount.
4.    Virtual classrooms and social media integration. For good or for ill, people are meeting less in person and more virtually. Educational technology companies have revolutionized university classes and created virtual classrooms that integrate with social media so people can "gather" for learning sessions in a more natural way and continue the discussion on social media. This has great implications for catechist and catechetical leader training and perhaps eventually for younger learners or their families in catechetical sessions.
We share a timeless message, but in a changing word, we must be willing to constantly re-envision our methodology. Here's to an exciting future in catechesis!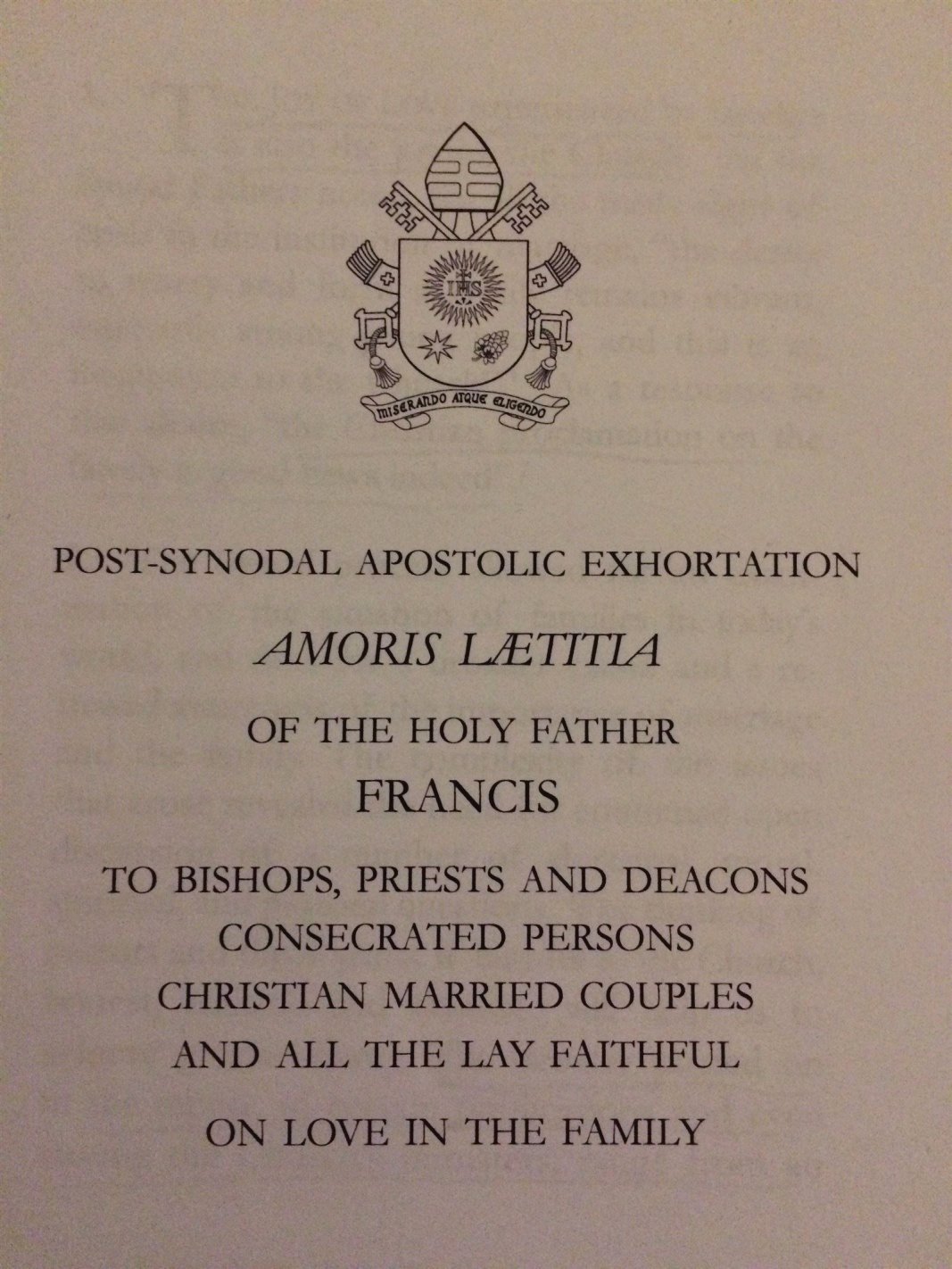 With today's release of the new Apostolic Exhortation, I am pleased to present this chapter-by-chapter summary guide for catechists and teachers of the faith. However, I recommend, as Pope Francis does, that you take your time with the document itself. It is a beautifully written teaching on marriage and family that will surely shape our conversation about these issues for years to come. The full text of the Apostolic Exhortation can be found
here.
 Or better yet, order a print copy of the document
here
.
**NEW UPDATE 5/7/2016
-- This study guide now includes reflection questions for catechists and catechetical leaders for each chapter of the document. You can also download a pdf of this study guide
here
.
INTRODUCTION
In the first paragraph, Pope Francis affirms the positive message of the family, stating, "the Christian proclamation on the family is good news indeed." 
Pope Francis immediately puts to rest sensationalist rumors about what will be contained in the document, stating, "The debates carried on in the media, in certain publications and even among the Church's ministers, range from an immoderate desire for total change without sufficient reflection or grounding, to an attitude that would solve everything by applying general rules or deriving undue conclusions from particular theological considerations" (2). He goes on to effectively state that what he will write will not absolutely settle the argument with general rules, because "each country or region…can seek solutions better suited to its culture and sensitive to local traditions and local needs."
Following that caveat about what he will not do, Pope Francis spells out what he will do in the apostolic exhortation and why:
He feels the Synods raised "many legitimate concerns and honest questions," and wishes "to gather the contributions" of the Synods and add "other considerations s an aid to reflection, dialogue and pastoral practice, as a help and encouragement to families in their daily commitments and challenges" (4).
Pope Francis states that this Exhortation is fitting for the year of mercy, "because it represents an invitation to Christian families to value the gifts of marriage and the family, and to persevere in a love strengthened by the virtues of generosity, commitment, fidelity and patience" and "because it seeks to encourage everyone to be a sign of mercy and closeness wherever family life remains imperfect or lacks peace and joy" (5).
He lays out his outline in paragraph 6:
"I will begin with an opening chapter inspired by the Scriptures, to set a proper tone. I will then examine the actual situation of families, in order to keep firmly grounded in reality. I will go on to recall some essential aspects of the Church's teaching on marriage and the family, thus paving the way for two central chapters dedicated to love. I will then highlight some pastoral approaches that can guide us in building sound and fruitful homes in accordance with God's plan, with a full chap¬ter devoted to the raising of children. Finally, I will offer an invitation to mercy and the pastoral discernment of those situations that fall short of what the Lord demands of us, and conclude with a brief discussion of family spirituality" (6).
He closes the introduction with a salient and hopeful quote from his address last year at the Meeting of Families in Santiago de Cuba:  "families are not a problem; they are first and foremost an opportunity" (7).
CHAPTER ONE – IN THE LIGHT OF THE WORD
In Chapter One, Pope Francis recounts the family in salvation history, noting that the family is present from the first page, in the story of Creation, to the last, in the marriage feast between the Bride and the Lamb. He points out that Genesis presents the human couple in its deepest reality – God has created man and woman in his image, and they, as a couple, reflect the image of the Creator in their fruitfulness (10). Pope Francis elaborates on this in paragraph 11, in which he points out that the family is a "living reflection" of the triune God, who is a "communion of love." He quotes Pope John Paul II in describing the Trinity as "a family, for he has within himself fatherhood, sonship, and the essence of the family, which is love. That love, in the divine family, is the Holy Spirit"
In paragraphs 12 and 13, Pope Francis discusses marriage as an encounter between man and woman, and a relationship of "voluntary self-giving love" (13).
Pope Francis then speaks of children and the family as "domestic church" and "the place where children are brought up in the faith. He discusses the biblical instruction for children to honor their parents, and states that the Gospel reminds us "children are not the property of the family, but have their own lives to lead" (18).
Pope Francis asserts that the ideal of the family presented in Scripture is "a source of comfort and companionship for every family, because "it shows them the goal of their journey" (22).
Work
Pope Francis points out that Scripture presents work as 'an essential part of human dignity" (23) and says that labor "also makes possible the development of society and provides for the sustenance, stability and fruitfulness of one's family" (24).  For this reason, he cites unemployment as a threat to family life (25). He also 
Tenderness of an Embrace
Pope Francis states that Jesus proposes his Law of Love as the "distinctive sign of his disciples."  He adds, "love also bears fruit in mercy and forgiveness" (27). 
Here, Pope Francis points to a virtue he states is "overlooked in our world of frenetic and superficial relationships" – tenderness.  Pope Francis cites God's own presentation of his relationship with us as one of parental love
In the last paragraph of Chapter 1, Pope Francis points to the Holy Family of Nazareth as an example for today, as this family "had its share of burdens and even nightmares." He directs us to look especially to Mary, whose heart "contains the experiences of every family" (30).
Reflection Questions for Catechists/Catechetical Leaders:
1. In what ways can I more effectively communicate Catholic teaching on marriage and family, especially as it relates to the communion of the Holy Trinity and the self-giving love of Jesus and the Church?
2. How might I make the Holy Family more prominent in my own work as a catechist, with special attention to the way they endured struggles and challenges with grace and love?
CHAPTER TWO – THE EXPERIENCES AND CHALLENGES OF FAMILIES
This chapter opens with a key quote: "The welfare of the family is decisive for the future of the world and that of the Church" (31).
Here, Pope Francis quotes the synod in saying that the "tensions created by an overly individualistic culture, caught up with possessions and pleasures, leads to intolerance and hostility in families" (33).  Here is another key quote:
"Freedom of choice makes it possible to plan our lives and to make the most of ourselves. Yet if this freedom lacks noble goals or personal discipline, it degenerates into an inability to give oneself generously to others" (33).
Here is another related statement in the next paragraph:
Ultimately, it is easy nowadays to confuse genuine freedom with the idea that each individual can act arbitrarily, as if there were no truths, values and principles to provide guidance, and everything were possible and permissible (34).
Regarding the Christian advocacy of marriage in the larger society, Pope Francis says this:
"As Christians, we can hardly stop advocating marriage simply to avoid countering contemporary sensibilities, or out of a desire to be fashionable or a sense of helplessness in the face of human and moral failings. We would be depriving the world of values that we can and must offer. It is true that there is no sense in simply decrying present-day evils, as if this could change things. Nor it is helpful to try to impose rules by sheer authority. What we need is a more responsible and generous effort to present the reasons and motivations for choosing marriage and the family, and in this way to help men and women better to respond to the grace that God offers them (35)."
He adds that we must be humble and realistic as we do this, and have a "healthy dose of self-criticism" (36).
Hinting at what is to come in his discussion of "irregular marriages," Pope Francis says this:
"We have long thought that simply by stressing doctrinal, bioethical and moral issues, without encouraging openness to grace, we were providing sufficient support to families, strengthening the marriage bond and giving meaning to marital life. We find it difficult to present marriage more as a dynamic path to personal development and fulfillment than as a lifelong burden. We also find it hard to make room for the consciences of the faithful, who very often respond as best they can to the Gospel amid their limitations, and are capable of carrying out their own discernment in complex situations. We have been called to form consciences, not to replace them" (37).
Pope Francis goes on to discuss some of the threats to marriage and family in society today, including the "throwaway culture," the discouragement of young people to marry, and a contraceptive mentality (39-42). He mentions the failures of social and political systems to uphold the family, and cites especially lack of affordable housing and problems with access to education (43-44).  He also discusses children born out of wedlock, the exploitation of children and forced migration as serious threats to family (45-46). He discusses the need to support families of persons with special needs and families caring for elderly members (47-48).
In paragraphs 50 and 51, Pope Francis discusses the challenges of parent-child communication, family stress, substance abuse and domestic violence. 
In paragraph 52, Pope Francis reaffirms the nuclear family as the basis for the future of society. In paragraph 53, Pope Francis addresses the growing number of alternatives to marriage being proposed, and again cautions against a disparagement of traditional marriage. 
Pope Francis decries the unequal treatment of women that continues in many places around the world. He states:
"There are those who believe that many of today's problems have arisen because of feminine emancipation. This argument, however, is not valid, 'it is false, untrue, a form of male chauvinism'. The equal dignity of men and women makes us rejoice to see old forms of discrimination disappear, and within families there is a growing reciprocity. If certain forms of feminism have arisen which we must consider inadequate, we must nonetheless see in the women's movement the working of the Spirit for a clearer recognition of the dignity and rights of women" (54).
Pope Francis also discusses the critical role men play in the family (55).
In paragraph 56, Pope Francis addresses current trends towards a fluid definition of gender and gender identity. Quoting the Synod, he states, "It needs to be empha¬sized that "biological sex and the socio-cultural role of sex (gender) can be distinguished but not separated" (56).  He adds, "Let us not fall into the sin of trying to replace the Creator. We are creatures, and not omnipotent. Creation is prior to us and must be received as a gift. At the same time, we are called to protect our humanity, and this means, in the first place, accepting it and respecting it as it was created (56).
Another key quote is found in paragraph 57:
"There is no stereotype of the ideal family, but rather a challenging mosaic made up of many different realities, with all their joys, hopes and problems. "
Reflection Questions for Catechists/Catechetical Leaders:
1. What challenges do families face in our parish and community? How can we better support families in these circumstances?
2. How do I provide for leaners with special needs in the catechetical setting? How might I support and encourage families of individuals with special needs?
CHAPTER THREE – LOOKING TO JESUS: THE VOCATION OF THE FAMILY
In Chapter 3, Francis points to the Kerygma as the center of all teaching on the family, as it is the center of all evangelizing activity. He states:
"The mystery of the family can be fully understood only in the light of the Father's infinite love revealed in Christ, who gave himself up for our sake and who continues to dwell in our midst" (59).
Here Francis discusses the New Testament's presentation of marriage as a gift, and Jesus' own teaching on the indissolubility of marriage, which Francis asserts should also be seen as gift (62).
Francis affirms prior teaching on love, marriage, and the family, including the teaching found in Lumen Gentium, Humanae Vitae, Familiaris Consortio, and Deus Caritas Est.  
In summarizing the theology of the Sacrament of Matrimony, Francis states, "The family is the image of God, who is a communion of persons" (71) and "The sacrament is a gift given for the sanctification and salvation of the spouses, since 'their mutual belonging is a real representation, through the sacramental sign, of the same relationship between Christ and the Church'" (72).
Pope Francis discusses marriage as a vocation, saying that the decision to marry and to have a family "ought to be the fruit of a process of vocational discernment." He states, "the engaged couple promise each other total self-giving, faithfulness and openness to new life" (73).
Pope Francis then turns to pastoral care for those living in what are sometimes called "irregular situations" – cohabiting couples, couples who are civilly married, or are divorced and remarried. Foreshadowing the lengthier discussion of these issues in Chapter 7, he advocates an affirmation of Church teaching with pastoral care and careful discernment of individual situations (78-79).
This is followed by a discussion of children as the fruit of conjugal love, and the responsibility of parents to provide for their children. Finally, the need for the entire Christian community to safeguard and support families is emphasized, both for the good of the family and for the good of the Church and society as a whole (87-88).
Reflection Questions for Catechists/Catechetical Leaders:
1. What are we doing to support and involve the family in catechesis? How might we better evangelize families and help them evangelize one another?
2. How do we promote the view of marriage as a vocation in our work as catechists?
CHAPTER FOUR -- LOVE IN MARRIAGE
This is perhaps the chapter par excellence of the Apostolic Exhortation. Here, Pope Francis begins by emphasizing the importance of "encouraging the growth, strengthening and deepening of conjugal and family love" (89).  Using St. Paul's discourse on love from I Corinthians 13, and drawing connotations of the original Greek, Pope Francis provides detailed commentary on each quality of love discussed in the passage, applying each quality of love in the Pauline text to the specific love of the family. What results is a beautiful treatise on the qualities of love in a marriage and family. This section would be edifying to all couples and families.
Pope Francis then turns again to the teaching that marriage is a sacramental sign of the communion of the Holy Trinity and the union of Christ and the Church, but, quoting St. John Paul II, adds that this is a dynamic process for the couple, and cautions against laying "upon two limited persons the tremendous burden of having to reproduce perfectly the union between Christ and his Church" (122).
In paragraphs 123-125, Pope Francis makes the case that a marriage relationship is, by nature, a lifelong one, and one that needs grace to sustain itself and grow in the face of today's challenges, including the "culture of the ephemeral," in which everything is treated as temporary and disposable (124).
Pope Francis discusses the difference between pleasure, which is fleeting, and joy, which is an "expansion of the heart" (126). He states, "Loving another person involves the joy of contemplating and appreciating their innate beauty and sacredness, which is greater than my needs" (127). He also discusses how joy can grow through pain and sorrow, as the couple can grow closer as they suffer and struggle together (130). 
In the next section, Pope Francis answers those couples (especially in the youngest generation) that might shun the formal institution of marriage, saying they don't need a formal commitment or piece of paper to prove their love. He states:
"Naturally, love is much more than an outward consent or a contract, yet it is nonetheless true that choosing to give marriage a visible form in society by under-taking certain commitments shows how import¬ant it is. It manifests the seriousness of each person's identification with the other and their firm decision to leave adolescent individualism behind and to belong to one another" (131).
Francis adds that marriage, as a social institution, "protects and shapes a shared commitment to deeper growth in love and commitment to one another, for the good of society as a whole" (131).
In paragraph 133, Francis discusses three words that are necessary in families: "Please," "Thank you," and "Sorry," adding "the right words, spoken at the right time, daily protect and nurture love" (133). He also discusses dialogue as essential for the growth of love in marriages and families (136), encouraging families to take quality time to be together (137) and cultivate habits of "giving real importance to the other person" (138). Francis counsels family members to "keep an open mind" in disagreements, and points out that a competitive spirit that is oriented towards winning an argument against the other is incompatible with the love to which we are called in families (140). 
The next section is devoted to a discussion of passion and emotions, particularly in the way that they deepen love when they lead us to loving actions (144-146). Because God delights in our joy, eros, properly ordered, is embraced, not rejected by the Church, Pope Francis says (147). He goes on to discuss Gods will for us to enjoy ourselves, but the necessity of integrating enjoyment with generous commitment (148). Pope Francis further elaborates on the erotic dimensions of love, saying that sexuality is a gift from God (150), but requires self-discipline and self-mastery, because it is not "a means of gratification or entertainment; it is an interpersonal language wherein the other is taken seriously, in his or her sacred and inviolable dignity" (151).
In paragraph 156, Pope Francis decries "every form of sexual submission," and states that Ephesians 5, properly understood, is about mutual submission of the spouses to one another. Still, he says, the ideal of marriage is not simply self-sacrifice, because "authentic love also needs to be able to receive the other" (157).
What follows is a discussion of marriage and virginity, in which Pope Francis asserts that both states of life "complement one another" and neither is absolutely superior to the other (159).
In the final section of this chapter, Francis discusses the ways in which married love grows and changes over the life of a marriage, saying that with the grace of the Holy Spirit, we find the strength to "confirm, direct and transform our love in every new situation" (164).
Reflection Questions for Catechists/Catechetical Leaders:
1. How might I share Pope Francis' teaching on love in the family from I Cor. 13?
2. How might we use Pope Francis' words on the importance of marriage both to the couple and society in order to encourage young people to consider marriage in a society that increasing shuns the institution of marriage? 
CHAPTER FIVE -- LOVE MADE FRUITFUL
Pope Francis begins this section by stating, "Love always gives life" (165). He discusses the openness to life that is characteristic of sacramental marriage and stresses the importance of caring for the children we have. Next he discusses pregnancy and discusses each child as a gift from God, for whom God has a dream (168). 
In the next section, Pope Francis states that every child "has a right to receive love from a mother and a father, affirming the necessity of both parents, who "show their children the maternal and paternal face of the Lord" (172).  Pope Francis goes on to discuss some unique qualities of mothers and fathers.
In paragraph 178, pope Francis discusses the suffering of couples facing infertility, but, quoting Gaudium et Spes, affirms that these couples still have a whole marriage with value and indissolubility (178). Pope Francis mentions adoption and foster care as generous ways in which couples with or without their own biological children can be fruitful and generous. In paragraph 186, Pope Francis points to the Eucharist as a call to "open the doors of the family to greater fellowship with the underprivileged."
Pope Francis discusses the importance of our larger extended families (187) and especially admonishes children not to forget their parents even though the must leave them. He goes on to remind us to value and care for the elderly. Francis also discusses the relationships between brothers and sisters and the relationship of the family to the larger community.
Reflection Questions for Catechists/Catechetical Leaders:
1. What support does our community offer couples that are facing infertility? How might we better encourage and support those couples?
2. How does my ministry support and involve elderly members of our community? How might we better use their talents and build a parish that more closely resembles an "extended family"?
CHAPTER SIX -- SOME PASTORAL PERSPECTIVES
Pope Francis opens Chapter Six by calling for renewed efforts in evangelization and catechesis within the family, encouraging the faithful to propose "values that are clearly needed today" and to "denounce cultural, social, political and economic factors…that prevent authentic family life and lead to discrimination, poverty, exclusion and violence (201). 
The parish is called "the family of families," and Pope Francis states that this is where the primary contribution to the pastoral care of families is offered (202). This is followed by a discussion of the need for support of deacons and priests and the training of seminarians in dealing with the complex challenges facing families today, as well as a need for the training of "lay leaders who can assist in the pastoral care of families" (204). 
The following paragraphs are devoted to the preparation of engaged couples for marriage, as well as remote preparation for marriage through the family. Here there is emphasis on not merely preparing for the wedding, but for a life together. Pope Francis also highlights the importance of supporting and forming the couple in the early years of marriage, which can be especially challenging. In paragraph 220, Pope Francis discusses various stages in the life of a marriage and also offers some guidelines for young couples on discerning responsible parenthood (222).
Paragraphs 232-238 discuss crises in marriage and the necessity for the couple to face these crises together in order to stay together and grow in love. Pope Francis also acknowledges the challenges that can be caused by past trauma or dysfunction in the family of origin of one or both spouses (239-240). 
Paragraphs 241-246 discuss the pastoral care of separated and divorced persons. Regarding those who have divorced and remarried, Pope Francis states, "
It is important that the divorced that have entered a new union should be made to feel part of the Church. "They are not excommunicated" and they should not be treated as such, since they remain part of the ecclesial community. These situations "require careful discernment and respectful accompaniment" (243). Special attention is also given to the effects of divorce and separation on children. Pope Francis emphasizes that "the good of the children should be the primary concern" (245).
In paragraphs 247-252, certain complex situations are discussed, including mixed marriages and disparity of cult, as well as a divorced and remarried person who is seeking baptism. Same sex attraction is also discussed in this section. Here, Pope Francis quotes the Synod Fathers, who said, "there are absolutely no grounds for considering homosexual unions to be in any way similar or even remotely analogous to God's plan for marriage and family" (251). Even so, Francis reaffirms that every person's dignity should be respected, and recommends families of persons with same sex attraction be given "respectful pastoral guidance" (250). 
In the remaining paragraphs of this chapter, Pope Francis calls for support of single parent families and families that are grieving the death of a loved one.
Reflection Questions for Catechists/Catechetical Leaders:
1. How are families dealing with separation and divorce acknowledged and supported in our community? Are we flexible with children in the catechetical program who are able to attend only periodically due to joint custody or visitation arrangements? How else do we support children of divorced parents?
2. What can our parish do to better accompany couples that are struggling in their marriages, particularly young couples in their first years of marriage?
CHAPTER SEVEN – TOWARDS A BETTER EDUCATION OF CHILDREN
Pope Francis begins this chapter by citing the key role of parents in the moral development of their children. He calls parents to consider what influences they want their children to be exposed to, expressing particular concern about the media habits of children (television and other electronic devices). However, he cautions against overcontrolling the environment of children, saying that, "what is most important is the ability lovingly to help them grow in freedom, maturity, overall discipline and real autonomy" (261). He encourages parents to be aware of their children's goals, desires, and dreams.
Francis speaks about cultivating a "good habits and a natural inclination to goodness" in their children, including delay of gratification, or what Pope Francis calls "the habit of foregoing an immediate pleasure for the sake of a better and more orderly life in common" (264). 
Considerable attention is given to the development of good habits and virtues, as well as a discussion of discipline and correction. Pope Francis encourages parents not to fall into extremes of either catering to all of the child's desires or "depriving the child of an awareness of his or her dignity, personal identity and rights" (270). He advises parents to proceed slowly, taking into account the stages of the child's development (273).  Pope Francis highlights the roles of catechists and Catholic Schools in supporting the family in the task of raising their children in faith (279). 
The next section of this chapter focuses on sex education, stating that it should be presented "within the broader framework of an education for love, for mutual self-giving" (280).  Francis cautions attention to the development and maturity of the child, not presenting too much information too soon, and highlights the value of a sex education that fosters "a healthy sense of modesty" (282). He contrasts a Christian sex education with one that is merely focused on "safe sex," saying, "It is always irresponsible to invite adolescents to toy with their bodies and their desires, as if they possessed the maturity, values, mutual commitment and goals proper to mar-riage" (283).  He adds that sex education should "foster respect and appreciation for differences" and an acceptance of one's own body (285). 
In the closing paragraphs of this chapter, Pope Francis highlights the value of family catechesis and states, "It is essential that children actually see that, for their parents, prayer is something truly important" (288).
Reflection Questions for Catechists/Catechetical Leaders:
1. As a catechist or catechetical leader, what tools can I give parents that will assist them in forming the consciences of their children?
2. How does our parish partner with parents to help children learn about God's plan for love and sexuality?
CHAPTER EIGHT – ACCOMPANYING, DISCERNING AND INTEGRATING WEAKNESS
At the beginning of this chapter, Pope Francis evokes the image of the Church as a field hospital. He points out that some forms of union faithfully reflect the union between Christ and his Church, some "radically contradict this ideal, while others realize it in at least a partial and analogous way" (292). He calls pastors to enter into "pastoral dialogue with these persons" in order to "distinguish elements in their lives that can lead to a greater openness to the Gospel of marriage in its fullness" (293). 
Pope Francis discusses various reasons people might be living together without marriage, and cites the "law of gradualness" of Pope John Paul II as a pastoral response.  He goes on to say, "This is not a "gradualness of law" but rather a gradualness in the prudential exercise of free acts on the part of subjects who are not in a position to understand, appreciate, or fully carry out the objective demands of the law" (295). 
Pope Francis cites the mercy of God and the "logic of the Gospel" in relation to dealing with "irregular situations." He expresses his agreement with the Synod Fathers, who concluded, ""In considering a pastoral approach towards people who have contracted a civil marriage, who are divorced and remarried, or simply living together, the Church has the responsibility of helping them understand the divine pedagogy of grace in their lives and offering them assistance so they can reach the fullness of God's plan for them", something which is always possible by the power of the Holy Spirit" (297).  He recommends a process of accompaniment in which the pastor "guides the faithful to an awareness of their situation before God" (300), and mentions conversation with the priest in the internal forum. However, he cautions against the notion that any priest can quickly grant 'exceptions'" (300). 
Pope Francis discusses factors that may mitigate culpability, and cautions against a "black and white" view of these situations (305).  However, Pope Francis again stresses the importance of proposing the ideal, saying anything less "would be a lack of fidelity to the Gospel and also of love on the part of the Church for young people themselves" (307). 
Reflection Questions for Catechists/Catechetical Leaders:
1. How can I, as a catechist, work to form consciences for discernment of moral situations, offering my learners a path to independent decision-making rooted in principles of Catholic morality, versus simply providing rules?
2. How do we "accompany" youth and young adults who are already expressing opinions or making decisions contrary to the Christian life? How do we gently guide them to a realization of what God has called them to be? 
CHAPTER NINE – THE SPIRITUALITY OF MARRIAGE AND THE FAMILY
In the second paragraph of this chapter, Pope Francis states, "We have always spoken of how God dwells in the hearts of those living in his grace. Today we can add that the Trinity is present in the temple of marital communion" (314). He goes on to say, "The Lord's presence dwells in real and concrete families, with all their daily troubles and struggles, joys and hopes" 315). 
Pope Francis encourages families to center themselves on Christ (317), and recommends family prayer as a "special way of expressing and strengthening this paschal faith" (318). He states, "to want to form a family is to resolve to be a part of God's dream, to choose to dream with him, to want to build with him, to join him in this saga of building a world where no one will feel alone" (321). He admonishes families not to stay closed in on themselves, but to live their faith in society:  "The family lives its spirituality precisely by being at one and the same time a domestic church and a vital cell for transforming the world" (324).
Reflection Questions for Catechists/Catechetical Leaders:
1. How do I nurture the spiritual lives of the families I serve by providing resources for prayer and Catholic practices in the home?
2. How are families at our parish equipped to share their faith with the larger world? What strategies can we give families for living their faith in the community? 
All week at the World Meeting of Families, the Church's beautiful diversity was on display. With over 100 countries and persons of all ages represented,  any sweeping generalization about the attendees here would have been inaccurate. This was a neither a gathering of the progressive Church nor the conservative Church, neither young nor old, neither Western not Eastern. This was simply a gathering of the Church, and in particular her families. It was fitting then, that the final day of programming at the World Meeting highlighted the theme of unity In diversity.
In the final keynote, Protestant Pastor and bestselling author Rick Warren took the stage with Cardinal Sean O'Malley. Pastor Warren reaffirmed many of the themes of the conference, including the urgency of strengthening families in today's society. He also affirmed the current focus on the New Evangelization in the Catholic Church, saying, "Make the New Evangelization the mission of the rest of your life."
Cardinal O'Malley expressed his thanks to Pastor Warren and spoke of the privilege of speaking together with a brother who teaches people about Jesus. O'Malley admonished those gathered to "see the world through God's eyes." The Cardinal also picked up the theme of evangelization, saying, "If the world does not believe, it is in part because we are not united."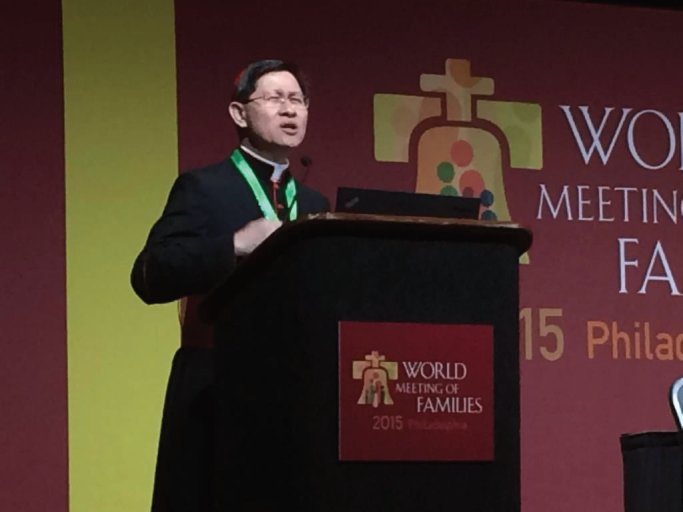 In the final workshop session of the World Meeting, Cardinal Tagle spoke about "Reaching out to Others in Authentic and Effective Ways."  Diversity, said Cardinal Tagle, is a gift. "It's part of God's design." But it is a gift that must be consciously received, and this requires responsibility. Cardinal Tagle stated that God himself, in his Trinitarian nature, is a model of unity in diversity. "What a shame if we do not image this God we profess."
According to Cardinal Tagle, God accomplishes unity in diversity because he "is a God of dialogue." We must also be a people of dialogue if we wish to reach out to others. Cardinal Tagle provided three questions "to help us understand if we are ready for dialogue": 1) Do I understand my own culture? 2) Do I know the culture of the other, so I can avoid presuppositions and prejudice? and 3) Do I make a conscious effort to clear the environment of prejudice and discrimination?
The Cardinal once again delighted those gathered with stories, including some about his own journey towards culture competency. At the end, there was time for one question from the audience. The question was one he is growing accustomed to being asked: "Will you sing us a song?" And in a voice as smooth as Johnny Mathis or Frank Sinatra, he did just that.
As a clinical psychologist and a catechetical writer and speaker, I have trouble letting a problematic cultural moment like this one pass by without comment. Fortunately, everything I would say about the "Fifty Shades of Grey" phenomenon has already been said,
here
on the psychological side (in a blog by UCLA psychiatrist Dr. Miriam Grossman) and
here
from the theological end, by Bill Donaghy from the Theology of the Body Institute. Enough said.
This post is long overdue, as I've mostly been on the road for the past several weeks. August began with keynote talks for Catholic school conferences in the Archdiocese of San Francisco and the Diocese of Laredo. Later in the month, I had lots of fun with he catechetical leaders in the Diocese of Trenton this past August, as we discussed "Engaging Children and Evangelizing Families." What a wonderful day we had together!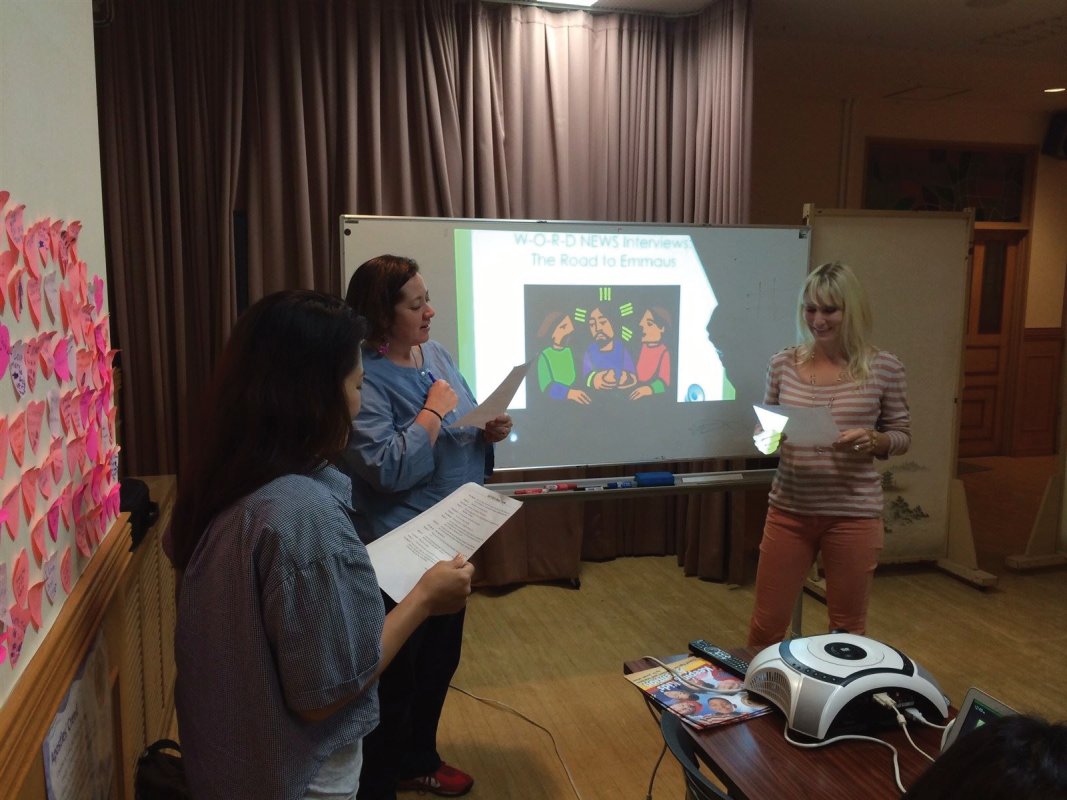 October began with a keynote talk at the Archdiocese of Galveston-Houston's Early Childhood Conference, followed by a talk together with my wife at the St. Francis Center in Tokyo, Japan. It was wonderful to hear about what the Catholic community in Tokyo is doing and to share some new ideas with catechists there. A special thanks to those of you who volunteered to be a part of our Bible story skit (see photo).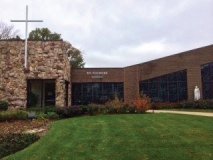 Later in that same week, I had the honor of speaking at the National Shrine of St. Therese of Lisieux (my favorite saint!) in Darien, IL. Special thanks to Fr. Bob for his hospitality and to all who participated in our engaging discussion on the role of Scripture in the life of the Little Flower. This was followed by a filled-to-capacity talk the next day at the Chicago Catechetical Conference. 
After Chicago, I jumped on a plane to get to Vancouver, for a talk to catechists and catechetical leaders the following day. Thanks so much for the warm welcome you gave me there! I'm so encouraged by all that is happening in the Archdiocese of Vancouver, and it was a privilege to meet Archbishop Miller as well. October wrapped up with talks in the Diocese of Stockton and a  day with Catechetical Leaders in the Diocese of Bridgeport, CT. It was great getting to know some of you so well and talking about exciting things to come!
Speaking of what's ahead, my 2015 speaking calendar will be posted soon, but here's a preview. I'm so excited to be coming soon to New Orleans, El Paso, Baltimore, Los Angeles, Springfield, Orlando, Santa Fe, Milwaukee, Trenton, St. Augustine, and TWO upcoming dates in Philadelphia (including a talk at the World Meeting of Families). Looking forward to meeting more of you as we work together to share the treasures of our faith!!
In response to the recent conversation about Syria, Pope Francis has proclaimed Saturday, September 7th as a day of fasting and prayer for peace. The Holy Father has also made a number of statements expressing his concern over the use of chemical weapons and also reminding us that it is our responsibility as Christians to find peaceful ways to resolve conflicts whenever possible. While we don't expect children to understand the complexities of issues like chemical weapons, international law and military intervention in conflicts in other nations, current events provide an opportunity to dialogue with them about Catholic teaching on war and conflict resolution.

"War never again! Never again war!" Pope Francis posted these words to his account on Twitter in the midst of the debate concerning Syria. While there might sometimes be just reasons for considering military intervention, our primary goal should always be to find peaceful means of resolving conflicts. The pope also sent the following message: ""We want a peaceful world, we want to be men and women of peace." In talking with our children, let us reflect on what it means to be people of peace in our own daily lives. Here are some questions for reflection with children:

• Do I pray for my enemies, as Jesus told us to do?
• When I have a disagreement with someone, do I look for ways to make it better?
• Do I stop to pray, asking the Holy Spirit to help me choose how to work things out peacefully?
• Do I take time to calm myself down so I can make a good (and prudent) decision? 
• Do I talk things through and avoid physical violence?

Being a people of peace can sometimes be counter-cultural. To be peaceful people means "going against the flow." Pope Francis says, ""We want in our society, torn apart by divisions and conflict, that peace break out!" Le us all resolve, on this worldwide day of prayer and fasting, to "let peace break out" in our families, our schools, and communities. Let us all say together, "Let it begin with me."

/